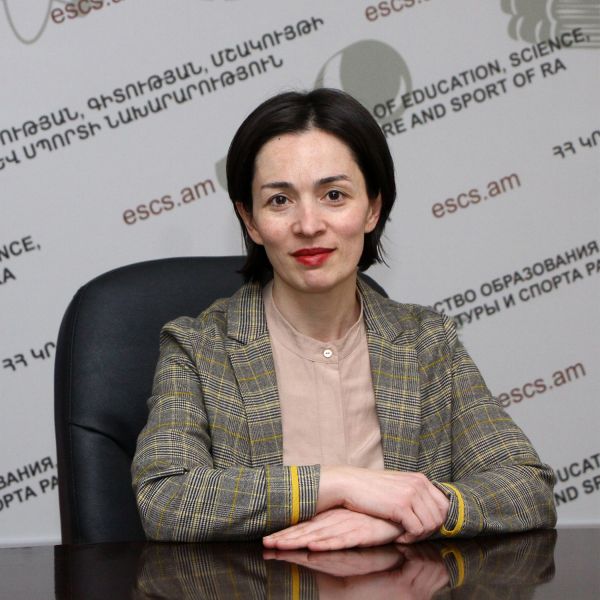 Dear Citizen,
Welcome to the official website of the Ministry of Education, Science, Culture and Sports of the Republic of Armenia.
The Ministry's daily activities must ensure the full realization of everyone's right to education, making comprehensive access to quality educational services at all stages of human life and in all communities. The task of the Department is to promote the formation of a law-conscious citizen within the society and the capacity development of the youth, to stimulate scientific thinking and the implementation of innovative ideas, to promote the continuous development of culture and creative sectors, expanding opportunities and conditions for the engagement of citizens in cultural life and communication, to guarantee and promote the preservation, creation and evaluation of cultural values, permanent registration of new achievements in the sports world, healthy lifestyle and physical activity of the society, formation of the necessary conditions for the dissemination of the code of conduct for various sports.
It is in the fields of education, science, culture and sports that we form the vision of the citizen of our state, those important values that become the basis and prototype of public behavior. Our priority is the formation of a society based on the discovery of human creative potential and public care for the sake of a dignified, peaceful and creative present and future of the Republic of Armenia and its citizens.
The beneficiaries of the active reforms process initiated by the Ministry are the representatives of all strata of society: starting from preschool pupils and their parents to university students, a scientist, a cultural figure, and an athlete, striving for sporting victory. It is your active participation that will contribute to the effective and successful implementation of these reforms for the benefit of our State and every citizen․
We will continue the initiated reforms with optimism, diligence and persistence.
I am confident that all the results are available due to hard work, the common belief in the advancement of the State, jointly facing the challenges with scientific justification, cultural and educational creativity, sporting spirit and preserving the consciousness of getting stronger day by day. Each of us is the guarantee for the power of our State.
Sincerely, Zhanna Andreasyan
---